Two of the more common issues faced when deciding whether to upgrade or buy a new PC are
What to do with your legacy apps
Should you choose 32 or 64 bit OS
You should know by now that it's time to say goodbye to your old friend Windows XP. Windows 7 is the best personal computing operating system available. But will your old favorite (and necessary) legacy programs work on Windows 7? And why should you choose 32 bit or 64 bit versions? What does that even mean?
We turn to Microsoft IT Pro Evangelist Matt Hester for answers to these questions in this vidcast.
---
Been there. Done that. Got the t-shirt. I have techie shirts going back way too far. Most have been donated or worn till they resembled Swiss cheese but I still have some classics. They are comfortable and who could part with a 'Windows NT 4: I saw it first' t-shirt?

Old t-shirts feel great but hanging on to older technology - like Windows XP - because you are comfortable with it is not a smart business move.

In this podcast video Microsoft IT Pro Evangelist Matt Hester talks about moving from old reliable Windows XP to new and improved Windows 7. He tells how to get your stuff over to the new PC and why you might not want to restore all your old apps.




---
When we last interviewed Matt Hester he was demonstrating Windows Vista and Office 2007. It wasn't really that long ago but how things have changed - and for the better.

We recently caught up with Matt as he showed a sold out room of IT professionals some cool tips, tricks and strategies on Windows Server 2008 R2, Sharepoint, Visual Studio and Office 2010.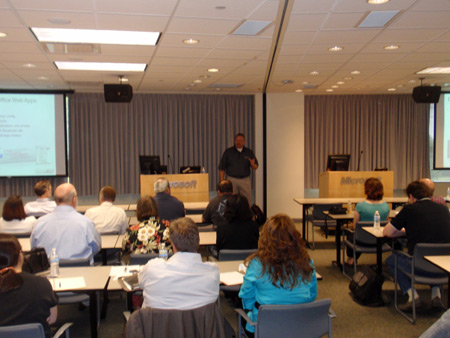 Matt Hester presenting in Cleveland June 3, 2010



Matt is a great presenter and has been a contributor to TechNet Magazine but now he is a published book author!

Matt and his colleague Chris Henley wrote Microsoft Windows Server 2008 R2 Administration Instant Reference
It's the kind of book that will get dog-eared, highlighted and maybe "borrowed" by your peers. You can get a taste of the book by reading Matt's blog.
The Great Lakes Geek could talk with Matt Hester for hours. He really knows his stuff.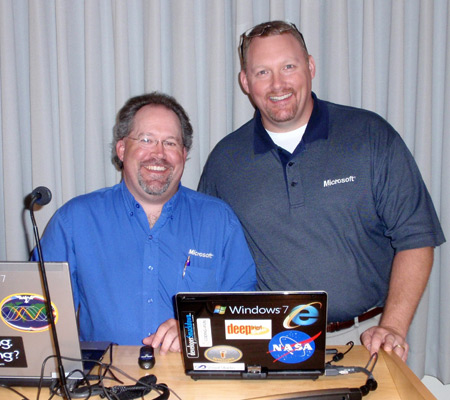 Bill Steele and Matt Hester



In these 3 vidcasts, Matt talks about some of the current state of affairs in the IT world - primarily from an IT admin's perspective - like the Cloud, Virtualization, R2, Office 2010 and Azure.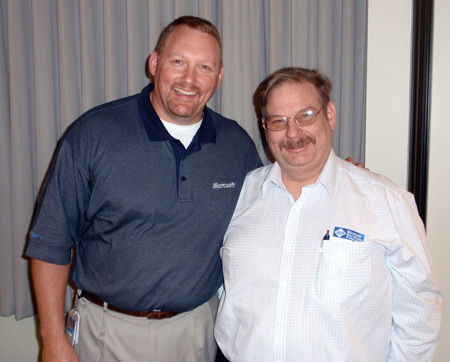 Matt Hester and Sharepoint MVP Paul Stork



In the first vidcast (below) Matt Hester talks about some cool features and tools of Windows Server 2008 R2 like the Best Practices Analyzer and Recycle Bin for Active Directory.
---


In this 2nd (of 3) vidcasts, Matt Hester talks about virtualization, the Cloud and Microsoft's Windows Azure platform.
---
Microsoft says "Windows Azure™ is a cloud services operating system that serves as the development, service hosting and service management environment for the Windows Azure platform. Windows Azure provides developers with on-demand compute and storage to host, scale, and manage web applications on the internet through Microsoft® datacenters.

Windows Azure is a flexible platform that supports multiple languages and integrates with your existing on-premises environment. To build applications and services on Windows Azure, developers can use their existing Microsoft Visual Studio® expertise. In addition, Windows Azure supports popular standards and protocols including SOAP, REST, XML, and PHP."
---


In this 3rd (of 3) vidcasts, Matt Hester talks about Microsoft Office 2010. Office 2010 has a special relationship with SharePoint.

For those of you still using the Clippy era version of Office (2003), Matt tells us "Clippy is dead." The ribbon is a very intuitive productivity tool.

Matt relates a story of how some large percent of the requests received by the Office product group for features, are already in the product! But people didn't know about them or had a hard time finding them. The ribbon really helps.
---
---
---
Earlier Matt Hester podcasts

Microsoft Windows Vista is being launched around the country and world. Some of the Microsoft Across America gang was in Cleveland January 23rd for a Windows Vista (and Office 2007) presentation at the Renaissance Hotel.

The event was standing room only and Matt and his colleagues did their usual energetic, informative show.

There are so many new and improved features in Windows Vista - many of which have been written about extensively - like the Aero Interface. So the Great Lakes Geek grabbed Matt in between presentations and they talked about their Top 3 favorite new features in the new OS that maybe haven't received as much press as some of the others.

Dan chose
Bitlocker,
Sideshow
Ready Boost
and Matt picked
User Account Control,
Search (and IE7)
and Speech Recognition.
Matt Hester's Blog
---
January 23, 2007 Interview

6,620 KB

4:42



Listen to this interview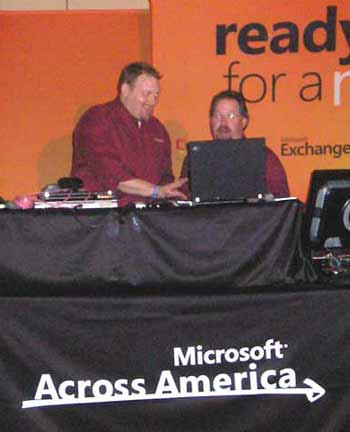 January 23, 2007 - Cleveland Renaissance Hotel
---
Previous Podcast with Matt Hester
---
Microsoft has a lot of new products and technologies soon to be released - Exchange 2007, the next version of Office and, of course, Microsoft Windows Vista. One of the ways they inform and educate developers, IT pros, end users and business executives is through TechNet presentations.

Matt Hester is a TechNet presenter who brings a lot of energy and knowledge to his presentations. One of the technologies that Matt is a pro on (see his article in TechNet Magazine August 2006) is Windows Desktop Search (WDS).

WDS is a free Windows tool that lets you search your hard drive, laptop, external drives and even company network so that you can quickly find that important e-mail or document or image that you need.

In this interview, Matt explains TechNet and how Windows Desktop Search works. Matt's a movie buff so he also tells the Great Lakes Geek his favorite techie flick.

Matt Hester's Blog

Windows Desktop Search

Microsoft TechNet
---
August 1, 2006 Interview

152,818 KB

13:40



Listen to this interview