Great Lakes Geek
Home
Calendar of Events
Geek Tips
Book Reviews
Event Reviews
Product Reviews
Geek Columnists
Geek Fun
Great Lakes Chic
Sponsors
About Great Lakes Geek
Podcasts/Vidcasts
Interviews
Current Show
Past Shows
One Minute Podcasts
Subscribe to the podcast

Speakers Bureau
Cleveland, NEO & Beyond
Don't Miss
Computers Assisting People (CAP)
ClevelandPeople.Com
ClevelandSeniors.Com
ClevelandWomen.Com
Dan Hanson
Fav Links
Magnum Computers Inc.
Search
Search this site/the web
---
Get Domain Names, Web Hosting, e-Mail & More
Cheap from the Geek!
---
---



---
Business, Science and Technology
News, Events and Resources

Welcome to the
Great Lakes Geek Show!
---
Follow us on Twitter for breaking news and updates.
@DanHanson and @greatlakesgeek

Check out GreatLakesGeek YouTube videos and Dan Hanson's Blog
---
2013 BioOhio Scholarships
Geek News
From an applicant pool of over 300 entries from high schools representing every region of Ohio, four high school seniors have been awarded the 2013 BioOhio Scholarship. This year's recipients of the non-renewable $1,250 scholarships are:
Grace Busick, Westerville Central High School. Grace will pursue biomedical engineering and business studies at The Ohio State University.
Kelly Haller, St. Joseph Academy of Cleveland. Before attaining her goal of attending medical school, this Strongville resident plans to major in biomedical science at The Ohio State University.

Lauren Misik, Niles McKinley High School. Lauren will attend Youngstown State University and the Northeast Ohio Medical University (NEOMED) as a student in the medical program.
Lauren Nye of Gahanna Lincoln High School. Ohio Northern University will be the destination this autumn for Lauren as she enters ONU's "0-6" Pharmacy program.
The scholarship program was created in 2009 by BioOhio members to encourage and advance bioscience-related STEM education and career interests in Ohio. To be considered for a scholarship, the student must live in Ohio, be a senior or senior-equivalent in good standing, and enroll at an Ohio college with plans to pursue a bioscience-related degree. Applicants submitted letters of recommendation and an essay describing both their interest in the bioscience field and as well as the steps they will follow to prepare for a bioscience career.
"This year's BioOhio Scholarship winners have achieved remarkable academic success - an average of over 4.3 on a 4.0 grading scale and over 31 on the standardized ACT test," said John Lewis, interim President of BioOhio. "In addition, their essays reflect both a history of practical experience as well as solid plans for a biomedical future. We are very proud of them and all who applied for the BioOhio Scholarships."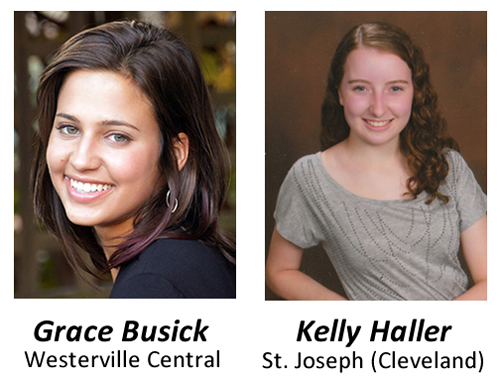 In her essay, Grace Busick spoke about time spent in her early childhood designing and creating while exploring a future in medicine and engineering. While on an internship at Ohio Health, she put those experiences to good use to create a simple but effective medical device. She explains, "If an MRI exam was terminated early or contained inaccuracies due to the movement from claustrophobia, then the patient's life could be at risk. I decided that I needed to do more to solve this problem."

For Kelly Haller, an accident in seventh grade resulted in a nasty cut, a rushed trip to the hospital — and a new-found interest in medicine. "I was fascinated with all that was happening in the emergency room and decided to learn more," she wrote. And apparently she learned rather well. Through shadowing and intern experiences at Cleveland's MetroHealth Hospital and the Cleveland Clinic, Kelly writes that she's up to the challenges she'll likely encounter in a medical career in order to help solve the health challenges of the world's population.

"I did not choose medicine, medicine chose me" provides an interesting perspective in Lauren Misik's essay. She credits the lessons learned from the care of her sister Carly, a cerebral palsy patient, with instilling a desire to help those who cannot always help themselves. She's eager to continue her rigorous academic career in a program that will see Lauren complete an undergraduate degree at Youngstown State in three years before directly entering NEOMED's four-year medical school program.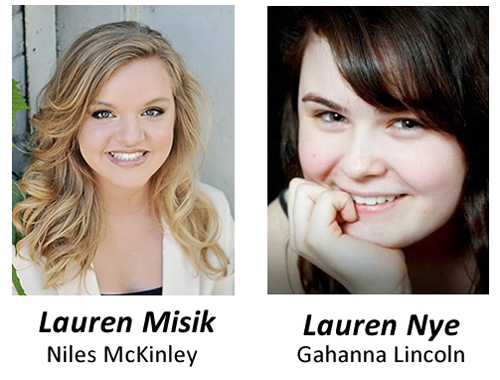 Since tenth grade, Lauren Nye has considered herself a bit of a pioneer when she was accepted into Gahanna Lincoln's inaugural Bioscience Technologies program. That experience and others included speakers from Cardinal Health, Ohio State University and BioOhio that Lauren credits with instilling in her a love for everything related to bioscience but in particular to pharmacy studies. As she begins her studies in Ohio Northern's pharmacy program, Lauren says, "I am determined to become the best I can be in my biomedical career of choice: pharmacy. Who knows where else my path will lead? I cannot wait to find out!"

Founded in 1987, BioOhio is a non-profit membership organization that builds and accelerates bioscience industry, research, and education in Ohio. As a trade association with 420 members, BioOhio is the lead organization for the Ohio bioscience community and is the Ohio affiliate for global bioscience industry organizations including BIO, AdvaMed, PhRMA and MDMA.
---
Lev Gonick - OneCommunity
Geek News
Lev Gonick has led Case Western Reserve's technology efforts since 2001.

Gonick has written and spoken widely about technology's impact in higher education and society at large. At Case Western Reserve he has spearheaded initiatives such as Courseware, where classroom lectures are captured on video and available for students' general review or keyword searches.

More recently he spearheaded the installation of Cisco TelePresence videoconferencing suites in Tomlinson Hall and the Kelvin Smith Library. That technology has enabled Case Western Reserve students to discuss social work practices with peers in China and faculty physicians to consult with colleagues abroad on particularly challenging patient cases.

He also championed online learning programs, including a degree program with the Jack, Joseph and Morton Mandel School of Applied Social Sciences and two open online courses through Coursera.

Lev was the driving force behind the nonprofit organization OneCommunity dedicated to expanding Northeast Ohio's digital access and capabilities. Since inception, OneCommunity has drawn national acclaim for its outreach efforts in health care, education and technological literacy.

"The future of Northeast Ohio is intimately and inextricably linked to the build-out and use of 21st century digital infrastructure," he said. "I look forward to the CEO role as our community's chief engagement officer. We have an opportunity to invent the future by leveraging next-generation network technology."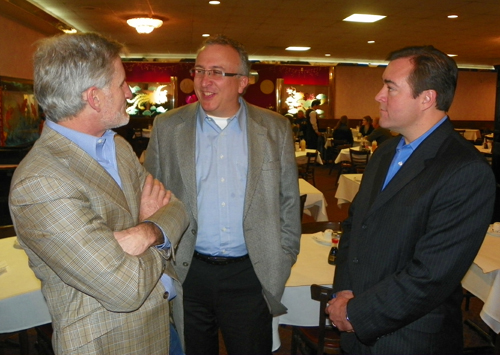 Ron Copfer, Lev Gonick and Scot Rourke
at the annual Magnum party
Top of Page
---
No, it's not Fig Newton
Geek Physics
Mechanics is always the first class in a Physics program. Did you master it? Can you remember it?

Test your understanding of classical mechanics this summer with Mechanics ReView MOOC.

Do you feel confident you could actually solve classical mechanics problems on your own? This summer, MITx presents a new opportunity to learn how to think like a physicist, how to break problems down into manageable steps and focus on underlying principles rather than just formulas.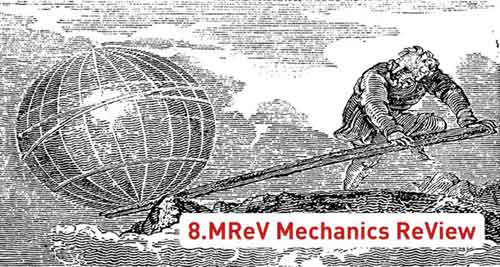 Mechanics ReView, a new physics MOOC that starts June 1, is designed to give you the problem-solving skills to approach any classical mechanics problem.

Mechanics ReView was developed out of a three-week January review of classical mechanics offered to MIT students who struggled in 8.01 Classical Mechanics, and is designed for learners with a previous exposure to classical Newtonian mechanics. Students are taught a systematic approach to problem solving called SIM, for System, Interaction, and Model. SIM tells students to plan a solution based on explicitly picking a System, identifying the important Interactions, and selecting an appropriate core Model.

Don't miss this chance to take your understanding of classical mechanics to a new level. For high school physics teachers, the course even offers continuing education credits though the American Association of Physics Teachers. Register now.



---
Optimist or Pessimist. Who Cares?
Geek Fun
People always claim they are either an optimist or a pessimist by how thye see a glass that is half-full with liquid. Of course geeks know that the glass is completely full, maybe not with liquid, but it's full.
---
Don't let others influence your thinking
Geek Video
Amir El-Hajj Khalid A. Samad, Co-founder and CEO, Peace in the Hood, spoke at the City Club of Cleveland about Street Violence: Guns, Gangs, and Guiding our Youth. He spoke about mistaken thinking and the problem in letting someone influence your thinking so much that you take on their ways. He told of a young man who actually pulled out a gun as a greeting.



Top of Page

---
Featured Show
All Asians are good in math and IT?
Johnny Wu is good in IT, and an admitted geek. He is Chinese-American. But he also is an award winning filmmaker. Wu is the President of OCA Cleveland Chapter and Co–Founder/Executive Committee Chair for the Cleveland Asian Festival among many other titles.
Wu was the keynote speaker at the Tri-C Culture Shock event on April 18, 2013 and spoke about 'Being Different.'
One of his issues is that people assume that all Asians are good in IT. It's not as bad as some stereotypes obviously but it's still a prejudice.
Hear what Wu has to say about it in this short video clip.
Johnny Wu at Culture Shock
Current Items
Paradox or Possible?
Geek Puzzle
Here's a puzzle for the baseball season.

Let's say that for the first half of the baseball season, Nick Swisher hits for a higher batting average than Asdrubal Cabrera. During the second half of the season, Swisher again hits for a higher average than Cabrera.

Is it possible for Cabrera to have a higher average for the season as a whole?

It sure is.

Think about it for awhile before scrolling down past the ads for the solution.
---
The solution, as you may have surmised, comes from considering the number of at bats. Let's say Swisher hits .300 in the first half and Cabrera hits .290 but Swisher comes to bat 200 times to Cabrera's 100 times.

In the second half of the season, say Swisher hits .400 and Cabrera hits .390 but Swisher comes to bat 100 times and Cabrera has 200 at bats.

This would yield a higher overall batting average for Cabrera than Swisher: .357 to .333. Do the math.

Now if only they can really hit numbers like those for the season!
---
If Jupiter was the same distance as the moon
Geek Image
The Great Lakes Geek loves this image created by jb2386 on Reddit depicting a landscape if Jupiter was the same distance from Earth as the Moon is. Very cool.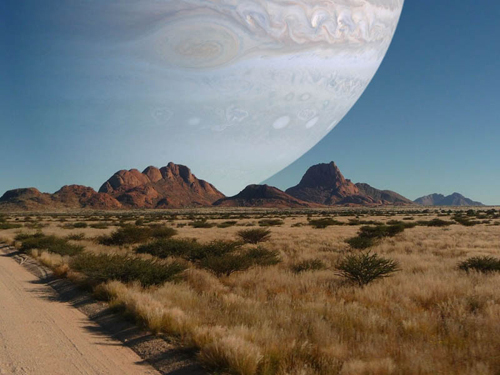 Top of Page
---
Hey Windows 8, where are my programs?
Geek Tip
The new UI in Windows 8 still seems to the Great Lakes Geek to be more suited for tablets and touchscreen devices than the traditional office desktop. So workarounds are needed.
If you are used to the Start menu to get to all your programs, you need some help in Windows 8. Win-X is handy but not as complete as Start was.
There are a few ways to see all your programs. You can hold down Windows key and press Q, right click an empty part of the Start screen or swipe your finger from the bottom of the screen up and choose "All apps."
Then you will get a scrollable list of all your installed programs. Just click on what you need.
Remember you can download the free Work Smart: Windows 8 Shortcut Keys reference guide.
It's 5 pages of shortcuts like Windows Key + K to open the Devices Charm or Windows Key + H to open the Share Charm.
---
Geek Domain Names
Order Domain Names, e-mail accounts, web hosting, SSL certs and the usual menu of Internet items for great prices at Great Lakes Geek Domains. Follow the link at the bottom of the nav bar (under search) or click to visit
---
Certified Partner News
Magnum News
We are proud to be Kroll Ontrack® Data Recovery Certified Partners.
This allows us to offer clients the best-of-breed products and services that Kroll Ontrack provides to recover your lost data.
NOTE: Tampering with media information may result in irreversible damage. Contact us right away when you have data loss to maximize the chances to recover your data.

Top of Page
---
Desktops, Servers and Notebooks - Oh My!
Geek Store
Need new hardware? Why pay extra for those expensive name brands?
Check out our on-line hardware store and browse pre-configured systems or tweak the configuration options yourself and get instant pricing.
We'll ship the custom built system right to your door. Take a look at the Magnum Computers Webstore
Top of Page
---