GiveCamp 2015
Geek Event
GiveCamp is a weekend-long event where software developers, designers, database administrators, project managers and creative professionals donate their time to create software and web-based applications for non-profit organizations. The Cleveland GiveCamp event takes place at the LeanDog Boat and Burke Lakefront Airport on the shores of Lake Erie.

The 2015 event was July 17-19 and 19 non-profits were helped!
At the conclusion of the weekend, everyone gathers together for a 3 minute demo of the projects. You can view the short videos of all 19 projects.
---
99 Red Balloons in German Garden
Geek Event
The Cleveland Cultural Gardens are unique in the world and one of Cleveland's treasures. The first Garden in the chain (now at 30) was started in 1916 making 2015 the 99th year of the Gardens.

To celebrate, members of the Cleveland Cultural Garden Federation (CCGF) hosted a free lunchtime concert and fun event in the German Cultural Garden at 1036 East Blvd.

Why the German Garden?

The Goethe-Schiller monument in the German Garden is the largest of any statue in the Gardens and made a great backdrop for a fun event capitalizing on the 1993 German pop song called 99 Luftballons (99 Red Balloons).

The Cleveland Donauschwasbe Blaskapelle (brass band) performed and free German food was available. In a one-of-a-kind photo opportunity, attendees posed holding 99 red balloons (courtesy of Pink Gorilla) while the band played the popular song. Out of respect for the environment, the balloons were not released as originally planned.



There were brief remarks from the Honorary German Consul Diane Thimmig, Cleveland Councilman Tony Brancatelli, Cleveland Cultural Gardens Federation president Sheila Crawford, German Garden delegate Hans Kopp telling about the monument and more.

The 70th annual One World Day on August 23, 2015 will be the official kickoff of the Centennial Year of the Gardens.

The German food was provided courtesy of Five Star Meats, Orlando Bakery, Hofbrau House, Phuel Café, RJ Lipton and Coke.

Lots of photos and videos soon

Top of Page


---
There is no Cloud
Geek Fact
As someone who has lived through several cycles of computing - mainframes and dumb terminal are great: you can access from anywhere to I want everything on my local device - the Great Lakes Geek is amused by the Cloud.
Chris Watterston said it very well: "There is no cloud. It's just someone else's computer" It's only the truth, but I wonder how many people really think there really is a "cloud" that stores all our data?
Too many people, Chris. Too many.

Top of Page


---
Higley Family gives $23 million to Cleveland Foundation
Geek News
Higley Family gives $23 million to Cleveland Foundation
At the 2015 Cleveland Foundation Annual Meeting, president and CEO Ronn Richard announced a $23 million estate gift from Beverly and Albert Higley.
This is the 3rd largest gift in Cleveland Foundation history. Over the past 90 years, the Albert M. Higley Company has built the US Coast Guard station, the Western Reserve Historical Society, and the new Eaton world headquarters in Beachwood among others.
Top of Page
---
Doctor Who in Cleveland
Geek News
Johnny Wu is an award-winning filmmaker and runs MDI (Media Design Imaging). He is also a Doctor Who fan.
He and a crew have been working on T.R.A.C.E. A Doctor Who Fan Film Webseries that includes two more of Johnny's passions, martial arts & visual effects.
The script was reviewed by a friend in the UK who was part of the BBC's Doctor Who's 40th Anniversary event and along with other numerous exhibitions. His own words: "Love it! And love the arc!"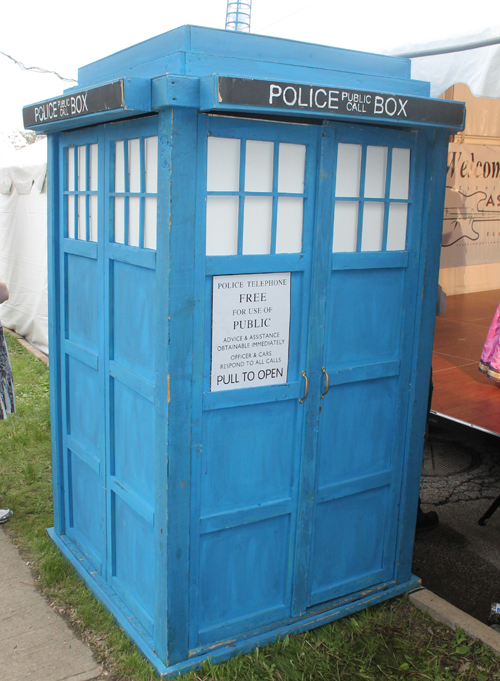 TARDIS at 2015 Cleveland Asian Festival



Each episode is about 5-8 minutes long and the style blends Anime martial arts with Sci-fi within the Doctor Who Universe. See more about the Dr. Who webisode project

The 2 webisodes that have been completed are terrific!

This is Episode 1

and this is the just released Episode 2

Be sure to watch both episodes. Below is a live taste of the webisodes at the 2105 Cleveland Asian Festival.



Top of Page


---
Slavic Village recovery - celebration of its 25th homebuyer
Geek News
Slavic Village, a historical neighborhood located outside of downtown Cleveland, was devastated by the national housing crisis and continues to struggle in the aftermath of economic decline. A once vibrant neighborhood rich in history and culture has been plagued by blight, vacant homes and financial hardships. But it's on its way back.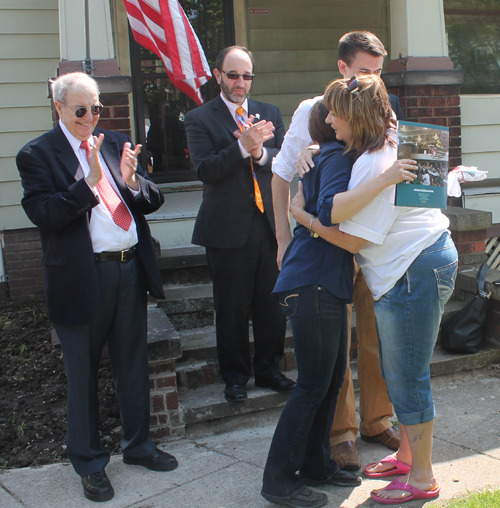 New Slavic Village neighbors
Slavic Village recovery and celebration of its 25th homebuyer
Top of Page
---
OneCommunity Cleveland [R]Iot
Geek Event
The Internet of Things [IoT] is the heart of innovation and has an enormous impact on the way we do business. By 2020, 50 billion devices will be connected and the market will be worth $14 trillion.
OneCommunity realizes this is an exciting time in the world of technology, and in the city of Cleveland, so they organized this introductory event to bring together local leaders to discuss the creation of a smarter, more inter-connected world, with the goal of transforming ideas into reality over the next year.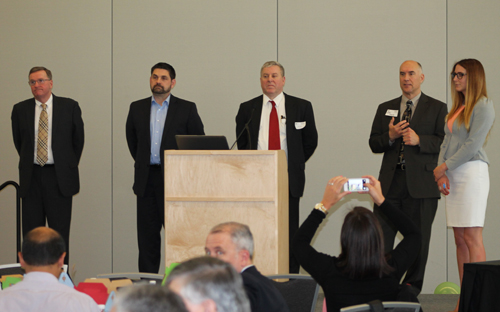 David Kalb of AT&T, James Benson of GE Lighting, John Kerg of Arrow Electronics, Matt Hoover of Embedded Planet
and Catherine Builes of One Community
Photos and Videos of the presentations at the Cleveland [R]IoT.

Top of Page


---
Word Brain Teaser
Geek Fun
See if you can figure out what these seven words all have in common
Banana
Dresser
Grammar
Potato
Revive
Uneven
Assess
No, it is not that they all have at least 2 double letters.

E-mail if you know the answer. The answer will be posted in a few days.
---
Free Windows 10
Geek Freebie
Great news! We will offer a free upgrade to Windows 10 for qualified new or existing Windows 7, Windows 8.1 and Windows Phone 8.1 devices that upgrade in the first year!
And even better: once a qualified Windows device is upgraded to Windows 10, we will continue to keep it up to date for the supported lifetime of the device, keeping it more secure, and introducing new features and functionality over time - for no additional charge.
Sign up with your email today, and we will send you more information about Windows 10 and the upgrade offer in the coming months.
The fine print at the bottom says:
It is our intent that most of these devices will qualify, but some hardware/software requirements apply and feature availability may vary by device. Devices must be connected to the internet and have Windows Update enabled. ISP fees may apply. Windows 7 SP1 and Windows 8.1 Update required. Some editions are excluded: Windows 7 Enterprise, Windows 8/8.1 Enterprise, and Windows RT/RT 8.1. Active Software Assurance customers in volume licensing have the benefit to upgrade to Windows 10 enterprise offerings outside of this offer. We will be sharing more information and additional offer and support terms in coming months.

Top of Page


---
By Popular Request
Geek Math Trick
Here's another very basic math exercise since you asked for more. If you want to quickly multiply a two digit number by 11, here's the shortcut.
Let's use 23 x 11 as the first example. The first number will be the 2 from 23 and the last number will be the 3 from 23. In the middle, put the sum of the number, 2+3=5. So 23x11=253.
Try 42x11. The answer starts with 4 and ends in 2 and the middle is 4+2=6 so the answer is 462.
There's a little hitch when the sum is greater than 10. Try 76x11 for example. The answer starts with 7 and ends in 6 but when you add up the 7+6 you get 13. You don't put 13 in the middle, you put the 3 in the middle and add the 1 to the first number, the 7. So 76x11=836.
If you line up the problem like you learned in school, you will see why it works. You are multiplying by 1 so basically writing down the number twice, but shifted over the second time. Only the middle gets added - the start and last number never change.
Get it?


---
The Answer is 1089
Geek Math Trick
Here's a very basic math exercise that won't amaze your friends but will get them thinking. The Geek likes to pretend he is opening an envelope a la Johnny Carson's Carnac or writing it on his arm or something.
Pick a three digit number of different numbers (so 123 or 487 are OK but 111 or 232 are not) Let's use 816 as an example.
Reverse the number. So 816 becomes 618
Subtract the smaller number from the larger. 816-618=198
Reverse the answer number. 198 becomes 891
Add that number to the answer of the subtraction. 891 + 198 = 1089
Voila! The result is 1089!
It's simple to prove with a little Algebra - Let the Geek know if you can't figure it out. It's based on the places of the digits so if you choose a number like 546 the process will be 645-546=99 and 99+99=198 not 1089.
You have to look at it like 99 is really 099. So 990-099=891 and 891+198=1089
Note also that it may not work with repeated digits because if it's a palindrome like 575 when you reverse it you will also get 575 and the difference will be 575-575=0 so there is nothing to work with.


---
Progress
Geek Report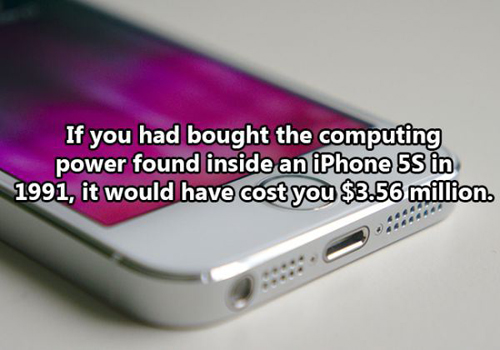 Top of Page
---
Cleveland's Economic Development Website Launch
Geek Event
Did you know that the City of Cleveland has a website geared toward Economic Development?
It does. The City of Cleveland launched a new website and marketing/branding campaign to showcase Cleveland as a destination for industry and innovation. The focus of the effort is to help businesses and site selectors rethink Cleveland.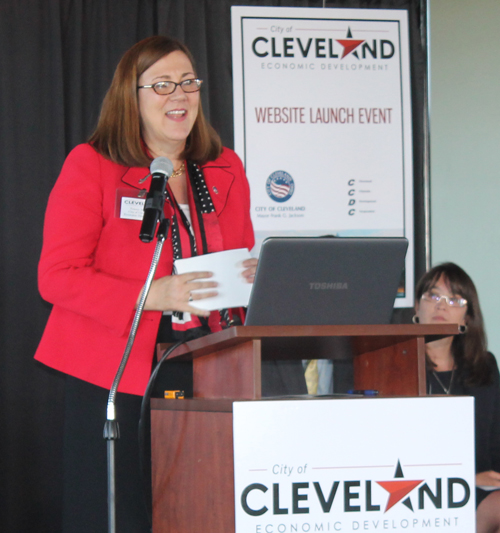 Cleveland Economic Development Director Tracey Nichols
More from City of Cleveland's Economic Development Website
---
This is Our Cleveland
Geek Event
The International Community Council - Worldwide Intercultural Network (ICC-WIN) hosted their annual multicultural holiday celebration at the Global Center for Health Innovation in the Cleveland Convention Center in Cleveland Ohio.
At the end of an international fashion show that featured native costumes from dozens of countries, the models gathered on stage and walked out to the sounds of We are the World. Watch this short video and be inspired.
More photos and videos from the event soon.

Top of Page


---
Old Apps
Geek Resource
Every once in a while you need to use an old version of some software. Maybe to load an old file or in a testing environment. There is a great source for these old versions called OldApps.com.
From their website:
The Idea behind OldApps.com is ingeniously simple. Our mission is to provide our users with a wide assortment of current versions of familiar software, and their predecessors, for free. Our database is maintained up to date with older versions of software as they become readily available. Our users can be assured that this process involves our careful and meticulous screening of each individual program and version listed on OldApps.com. Our pledge is that our users will never end up with any malware, trojans, and/or any other variation of viruses.
While most web-sites provide downloads of current versions, OldApps.com caters to a different market of interest by providing older versions of the same useful programs. Often newer versions are more complicated to use and we understand that it is hard to find older, more user-friendly versions of popular software. Many software providers do not include older versions of their software on their sites, therefore, OldApps.com has found its market niche and provides a vital intermediary function for our users' software needs. We are more than happy to accommodate you with "freedom of choice" by providing multiple versions for you to choose the optimal software version that is right for you.
As software updates are being released more frequently, not every computer is able to keep up with the minimum requirements of new software; OldApps.com hopes that we can provide a means to circumvent this problem. Many users with slow Internet connections may want to attain a leaner program to avoid the common frustrations associated with the increasingly larger sizes of modern programs. OldApps.com lists file sizes next to all versions of software to ensure maximum customization. As we are expanding our library, we will diligently continue to add features to the site, so be sure to keep in touch with us.
They have Windows, Mac and Linux sections.
So if you need an old version of SnagIt for Windows NT 3.5 you can find it there. I haven't found a similar source for old DOS programs but often searching for the particular name - Lotus 123 or VisiCalc or…) will yield results.
---
Engineer Designers
Geek Humor
Three engineering students were gathered together discussing the possible designers of the human body. One said, "It was a mechanical engineer. Just look at all the joints. "
Another said, "No, it was an electrical engineer. The nervous system has many thousands of electrical connections."
The last said, "Actually it was a civil engineer. Who else would run a toxic waste pipeline through a recreational area?"
---
Engineer cooking dinner
Geek Humor
The engineer's wife left a note for him to prepare dinner that evening:
"Shepherd's Pie needs to be taken out of the fridge and placed in the oven at 140 degrees."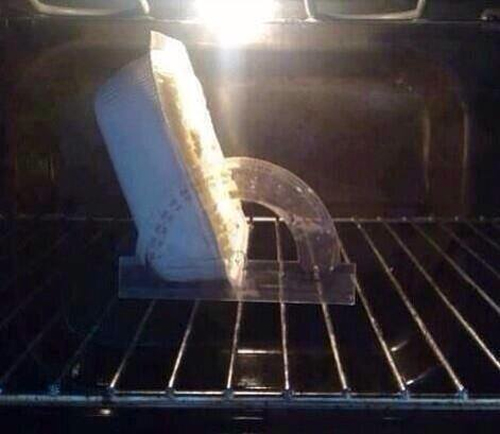 So that's what he did.
---
Count on This
Geek Tip
The Calculator in Windows (7 and up) is more than just a last resort when you need a quick sum or square root. If you click on the View menu item you will see options for Standard, Scientific, Programmers and Statistics with the appropriate functions.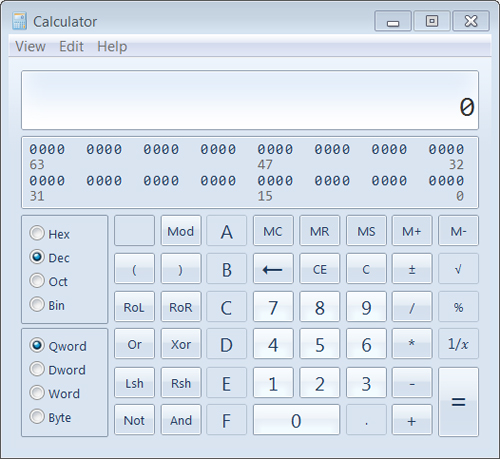 Programmer Calculator option in Windows 7 calculator



There are also options for Unit Conversions (Joules to BTU, grams to ounces and more) and Date Calculations and if you open the Worksheets item you get Mortgage, Vehicle Lease and Fuel Economy (mpg and L/km)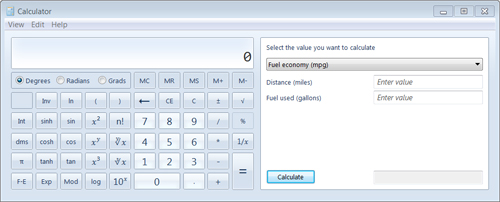 The best thing is it is always available.
---
Tech Timeline
Geek History
The Great Lakes Geek has been working on a Tech Timeline of important dates in the region's tech history.
For example, Cindy and Jim Cookinham started a publication in late 1981 called IPCO INFO. It was the first publication for the IBM PC.
On May 19, 1997 programmer John Hill started Aztek.
And so on.
So if you have a milestone that should be added to the Tech Timeline, let us know.
---
What the Great Lakes Geek is reading
Geek Book
The Great Lakes Geek just finished reading The Cartoon Introduction to Statistics
The author (cartoonist Grady Klein) wrote two volumes of The Cartoon Introduction to Economics with the intent to make a potentially dry topic, palatable and even fun. He tries it again here with The Cartoon Introduction to Statistics.
I would guess that the audience for the book is youngsters who are interested in math, science and learning beyond their age and school coursework or older students who are struggling with their Intro to Stats course and need the extra help.
Read the Great Lakes Geek review of The Cartoon Introduction to Statistics

Top of Page

---
Bill Gates Book List
Geek Reads
Several of you asked about the Bill Gates recommended reading list from Wired Magazine that was referenced below.
What I found interesting is that when I went to Amazon to order Feynman's Tips on Physics I noticed the section that Amazon calls "People who bought his book also bought…"
I expected to see other Physics books but what I saw was books from Gates' reading list such as Tap Dancing to Work and other books that had nothing to do with Physics. So obviously the Great Lakes Geek is not alone in trying to read what Bill Gates reads.
Here is the list that Bill Gates titled "Here Are the Books I Read When Out on the Road"
Feynman's Tips on Physics - A short companion book to Richard Feynman's classic Lectures on Physics. Always worthwhile to return to the feet of the master.

The Cartoon Introduction to Statistics - Bought this to use with one of my kids. Helpful in explaining a complicated subject to a teenager.

Super Sad True Love Story: A Novel - I don't read a lot of fiction, but I thought this was an interesting study of the moral implications of technology. Will technology contribute to everyone's well-being or just make people more narcissistic?

The Great Courses (DVD) - I left college early, but I'm probably the world's biggest consumer of academic courses online and on disc. Lately I've been enjoying Understanding the Secrets of Human Perception and Oceanography: Exploring Earth's Final Wilderness. Neil deGrasse Tyson's lectures on astrophysics, My Favorite Universe, are also really compelling.

The World Until Yesterday: What Can We Learn From Traditional Societies? - I'm a big Jared Diamond fan; I invited people to read this with me last summer.

Tap Dancing to Work: Warren Buffet on Practically Everything - Any compilation of Warren Buffett's wisdom should be kept close at all times. Financial journalist Carol Loomis gathers some of his best here.

The Path Between the Seas: The Creation of the Panama Canal - I read this to prepare for a family vacation to Panama. It's pure McCullough: epic drama, political intrigue, heartbreaking defeats, and eventual triumph.

The Better Angels of Our Nature: Why Violence Has Declined - One of the most important books I've read. Steven Pinker demonstrates how the world evolved to be far less violent. Counterintuitive, if you watch the news, but true.
---
Microsoft System Center
Geek Freebie
The second title in the new series of free ebooks from Microsoft Press on System Center 2012 is now available. Microsoft System Center: Configuration Manager Field Experience provides Configuration Manager administrators with helpful and tested real-world guidance from consultants and product experts at Microsoft.
The target audience for this book is administrators who have at least three years experienced working with previous versions of Configuration Manager and who have begun deploying and using Configuration Manager 2012 in their environment.
Download a pdf of the eBook for free
---
Geek Domain Names
Order Domain Names, e-mail accounts, web hosting, SSL certs and the usual menu of Internet items for great prices at Great Lakes Geek Domains. Follow the link at the bottom of the nav bar (under search) or click to visit
---
Certified Partner News
Magnum News
We are proud to be Kroll Ontrack® Data Recovery Certified Partners.
This allows us to offer clients the best-of-breed products and services that Kroll Ontrack provides to recover your lost data.
NOTE: Tampering with media information may result in irreversible damage. Contact us right away when you have data loss to maximize the chances to recover your data.

Top of Page
---
Desktops, Servers and Notebooks - Oh My!
Geek Store
Need new hardware? Why pay extra for those expensive name brands?
Check out our on-line hardware store and browse pre-configured systems or tweak the configuration options yourself and get instant pricing.
We'll ship the custom built system right to your door. Take a look at the Magnum Computers Webstore
Top of Page
---