Costumes at Comic Con Cleveland 2016
Geek Fun
The most fun at Comic Con is seeing how people dress.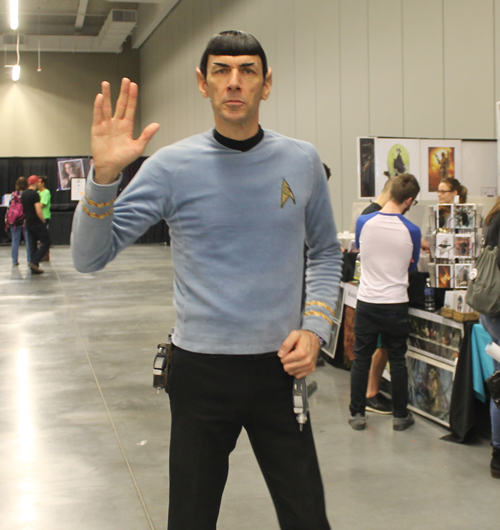 Live Long and Prosper
See the Comic Con costumes
Top of Page
---
Comic Con Cleveland 2016
Geek Fun
TRACE the Doctor, new Cleveland superhero Apama and more fun from 2016 Wizard World Comic Con in Cleveland.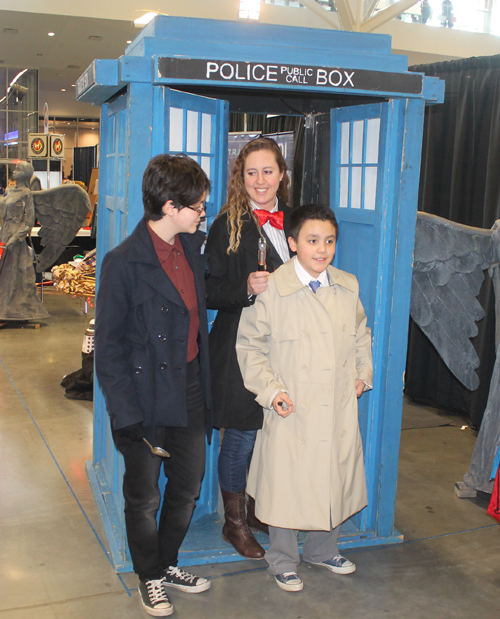 Comic Con Cleveland 2016
Top of Page
---
Raspberry PI
Geek Hardware & Software
Did you know that the Raspberry Pi computer has a version, the Zero, that sells for only $5?
Read more about the Rapberry Pi Zero.
It features:
A Broadcom BCM2835 application processor
1GHz ARM11 core (40% faster than Raspberry Pi 1)
512MB of LPDDR2 SDRAM
A micro-SD card slot
A mini-HDMI socket for 1080p60 video output
Micro-USB sockets for data and power
An unpopulated 40-pin GPIO header
Identical pinout to Model A+/B+/2B
An unpopulated composite video header
Our smallest ever form factor, at 65mm x 30mm x 5mm
Currently the local Micro Center (Mayfield Hts) is sold out of the Raspberry Pi Zero but they have a few MCM Electronics Raspberry Pi 2 Model B Media Centers in stock for $64.99.

That includes the Raspberry Pi 2 Model B Board, 8GB Operating System microSD Card, Multicomp Black Pi 2 Model B Case, Raspberry Pi Power Supply, Wi-Pi Wireless Adapter, 3' HDMi Cable, 7' Ethernet Cable, 36 Page Raspberry Pi User Guide

Top of Page


---
Write your own OS
Geek Software
The Great Lakes Geek thinks that programmers of his generation (harrumph!) are better because they didn't have all the visual tools. In fact the best learning experience, in his not so humble opinion, is writing directly to the processor, without an operating system.
A great learning tool is writing you own OS in assembler. There is a free online course from the Cambridge Computer Laboratory that teaches you how to write your own operating system using assembly code.
Give it a try you young whippersnappers

Top of Page


---
More Geek Humor
Geek Humor
Q: Why did the Higgs Boson go to church?
A: For the mass.
Did you hear about the company that sells elastomeric insulators?
Their motto is "Resistance is butyl".
Intern: How I get to the marketing department?
Engineer: Easy, go west until you can smell it and then turn north until you step in it.
We had our engineers work in HR for a week to encourage better teamwork. They immediately sent out an employment ad that read "Supermodels wanted, (must be able to solder.)"

Top of Page


---
Facebook Graph
Geek Humor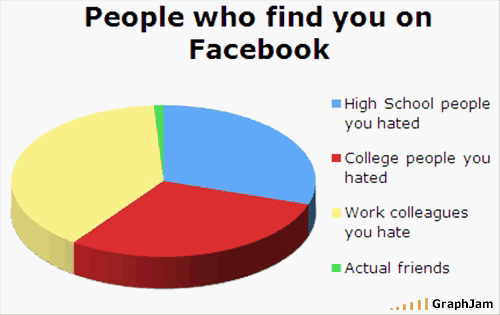 Top of Page
---
Books with a Cleveland focus
Geek Contest
Congratulations to the winners of some terrific new Cleveland focused books.
Winners have been notified and books were taken to the post office for delivery.
The books that were won were:
Let's Have Another by Dan Coughlin

The Ashtabula Hat Trick: A Milan Jacovich Mystery by Les Roberts

The Making of Major League: A Juuuust a Bit Inside Look at the Classic Baseball Comedy

The Bone Lady: Life Lessons Learned as One of Football's Ultimate Fans

Cleveland TV Tales Volume 2: More Stories from the Golden Age of Local Television
See more about the books
Top of Page
---
New Ransomware Tool
Geek Tool
The New Ransomware Kit is Coming Soon.
That's the headline of a blogpost from Third Tier.
It begins, "A lot has changed since October 2013. Yes, it has really been two years since we published our group policies to help mitigate against Cryptolocker. Since then we added instructions for protecting non-domain joined machines, workgroup computers, configuring your firewall, protecting your backup locations, advice on minimizing your attack surface and educating clients. It's the proverbial onion layer approach. There's no one solution for something like this because it's always morphing. "
Follow the link to read the post and sign up for the tool when available.

Top of Page


---
Microsoft's free USB-diagnostic tool
Geek Tool
The Windows Secret newsletter had some good info about USB-diagnostic tools.

USB 2.0 (lhs) and 3.0 (rhs) logos



Fred Langa says "USB 3.0 data transfers should be up to 10 times faster than USB 2.0 — and 2.0 should be almost 10 times faster than USB 1.0. But many factors can cause your USB connections to limp along at a fraction of their expected speeds."

He goes on "The best and most reliable way I've found to fully explore USB setups — in all Windows versions — is to run Microsoft's free and easy to use USBView tool. It isn't part of Windows; it's a separate download. USBView isn't a standalone download; it's part of the Windows debugging (WinDbg) toolkits for Win10, Win8, and Win7. (Vista can use Win7's USBView.) The WinDbg toolkit, in turn, is included in the Windows Software Development Kit (SDK). There are separate SDKs for each Windows version, and all are free."

See more in the Windows Secret newsletter

Top of Page


---
Scientist Logos
Geek Fun
This is Great!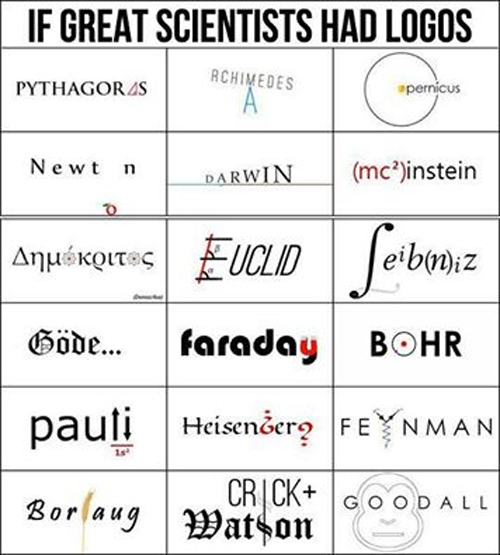 Do you understand them all?
---
3D printing at Timken and PolyOne
Geek How To
Sandra Rapp, Vice President and Chief Information Officer, The Timken Company and Brian Schilf, Director, Global IT Computer Services, PolyOne Corporation were on a panel about Innovation at the 2015 OHTEC CIO Symposium in Cleveland. In the Q&A session they were asked about 3D printing and they explained their companies experience with the new devices.
Top of Page
---
What the Great Lakes Geek is reading
Geek Book
The Great Lakes Geek just finished reading The Cartoon Introduction to Statistics
The author (cartoonist Grady Klein) wrote two volumes of The Cartoon Introduction to Economics with the intent to make a potentially dry topic, palatable and even fun. He tries it again here with The Cartoon Introduction to Statistics.
I would guess that the audience for the book is youngsters who are interested in math, science and learning beyond their age and school coursework or older students who are struggling with their Intro to Stats course and need the extra help.
Read the Great Lakes Geek review of The Cartoon Introduction to Statistics

Top of Page

---
Bill Gates Book List
Geek Reads
Several of you asked about the Bill Gates recommended reading list from Wired Magazine that was referenced below.
What I found interesting is that when I went to Amazon to order Feynman's Tips on Physics I noticed the section that Amazon calls "People who bought his book also bought…"
I expected to see other Physics books but what I saw was books from Gates' reading list such as Tap Dancing to Work and other books that had nothing to do with Physics. So obviously the Great Lakes Geek is not alone in trying to read what Bill Gates reads.
Here is the list that Bill Gates titled "Here Are the Books I Read When Out on the Road"
Feynman's Tips on Physics - A short companion book to Richard Feynman's classic Lectures on Physics. Always worthwhile to return to the feet of the master.

The Cartoon Introduction to Statistics - Bought this to use with one of my kids. Helpful in explaining a complicated subject to a teenager.

Super Sad True Love Story: A Novel - I don't read a lot of fiction, but I thought this was an interesting study of the moral implications of technology. Will technology contribute to everyone's well-being or just make people more narcissistic?

The Great Courses (DVD) - I left college early, but I'm probably the world's biggest consumer of academic courses online and on disc. Lately I've been enjoying Understanding the Secrets of Human Perception and Oceanography: Exploring Earth's Final Wilderness. Neil deGrasse Tyson's lectures on astrophysics, My Favorite Universe, are also really compelling.

The World Until Yesterday: What Can We Learn From Traditional Societies? - I'm a big Jared Diamond fan; I invited people to read this with me last summer.

Tap Dancing to Work: Warren Buffet on Practically Everything - Any compilation of Warren Buffett's wisdom should be kept close at all times. Financial journalist Carol Loomis gathers some of his best here.

The Path Between the Seas: The Creation of the Panama Canal - I read this to prepare for a family vacation to Panama. It's pure McCullough: epic drama, political intrigue, heartbreaking defeats, and eventual triumph.

The Better Angels of Our Nature: Why Violence Has Declined - One of the most important books I've read. Steven Pinker demonstrates how the world evolved to be far less violent. Counterintuitive, if you watch the news, but true.
---
Microsoft System Center
Geek Freebie
The second title in the new series of free ebooks from Microsoft Press on System Center 2012 is now available. Microsoft System Center: Configuration Manager Field Experience provides Configuration Manager administrators with helpful and tested real-world guidance from consultants and product experts at Microsoft.
The target audience for this book is administrators who have at least three years experienced working with previous versions of Configuration Manager and who have begun deploying and using Configuration Manager 2012 in their environment.
Download a pdf of the eBook for free
---
Geek Domain Names
Order Domain Names, e-mail accounts, web hosting, SSL certs and the usual menu of Internet items for great prices at Great Lakes Geek Domains. Follow the link at the bottom of the nav bar (under search) or click to visit
---
Certified Partner News
Magnum News
We are proud to be Kroll Ontrack® Data Recovery Certified Partners.
This allows us to offer clients the best-of-breed products and services that Kroll Ontrack provides to recover your lost data.
NOTE: Tampering with media information may result in irreversible damage. Contact us right away when you have data loss to maximize the chances to recover your data.

Top of Page
---
Desktops, Servers and Notebooks - Oh My!
Geek Store
Need new hardware? Why pay extra for those expensive name brands?
Check out our on-line hardware store and browse pre-configured systems or tweak the configuration options yourself and get instant pricing.
We'll ship the custom built system right to your door. Take a look at the Magnum Computers Webstore
Top of Page
---