Great Lakes Geek
Home
Calendar of Events
Geek Tips
Book Reviews
Event Reviews
Product Reviews
Geek Columnists
Geek Fun
Great Lakes Chic
Sponsors
About Great Lakes Geek
Podcasts/Vidcasts
Interviews
Current Show
Past Shows
One Minute Podcasts
Subscribe to the podcast

Speakers Bureau
Cleveland, NEO & Beyond
Don't Miss
Computers Assisting People (CAP)
ClevelandPeople.Com
ClevelandSeniors.Com
ClevelandWomen.Com
Dan Hanson
Fav Links
Magnum Computers Inc.
Search
Search this site/the web
---
Get Domain Names, Web Hosting, e-Mail & More
Cheap from the Geek!
---
---



---
Business, Science and Technology
News, Events and Resources

Welcome to the
Great Lakes Geek Show!
---
Follow us on Twitter for breaking news and updates.
@DanHanson and @greatlakesgeek

Check out Dan Hanson's YouTube videos and Dan Hanson's Blog
---
Featured Show
Changes in e-mail marketing
Great Lakes Geek Dan Hanson was online and sending e-mail in (gulp!) 1983! So he has seen a lot of techniques to reach customers via e-mail. But so much as changed in the last 30 years.
Dave Skorepa, Chief Creative Officer, and Matt Messenger, Director of Web Marketing, work for Aztek, a Cleveland web design firm, specializes in custom responsive web design and web application development and web marketing. In their 15+ years in business Aztek has completed thousands of projects with more than 600 different clients in nearly every industry imaginable.
Dan Hanson asked them if e-mail is still an effective marketing tool and what has changed recently.
Matt said the biggest change might be Gmail's move to a tabbed in box. Dave said that 40% of the mail is read on small devices so a responsive framework is needed. Both agreed that compelling content is the key to getting your e-mails opened and read.
Check it out.
Top of Page
Other Current Items
FFEF Grant to Advance Biomedical Industry Development Efforts
Geek News
The Fund for Our Economic ic Future announced it has awarded a one-year grant of up to $550,000 to BioEnterprise to advance efforts to strengthen the growing bioscience industry in Northeast Ohio. The grant award was made on Tuesday, Dec. 3, by a vote of the Funders Committee, the Fund's governing board.
The Fund is a philanthropic collaboration of more than 50 foundations and organizations committed to advancing a growing, opportunity-rich economy for the people of Northeast Ohio.
The grant will support efforts by BioEnterprise to accelerate the region's biomedical industry. Since July 2002, BioEnterprise and its partners have created, recruited, and accelerated more than 170 companies and assisted those companies in attracting more than $1.6 billion in new funding. BioEnterprise is a non-profit supported by the region's leading medical institutions and the State of Ohio.
"The bioscience industry promises to be an important driver of our region's economy in the future and BioEnterprise has played a critical role in helping our region's young bioscience companies attract the capital they need to grow," said Deborah Hoover, chair of the Fund and chief executive of the Burton D. Morgan Foundation based in Hudson, Ohio. "Thanks to the hard work of BioEnterprise and their partners Northeast Ohio is becoming the top Midwest market for bioscience investors, and that is resulting in more jobs and increased opportunity for our region's residents. Our Fund is pleased to continue to provide support for this important work." The Fund first awarded a grant to BioEnterprise in 2004.
The Funders Committee meets quarterly to consider grants and review the Fund's efforts to promote business growth, elevate talent and enhance the quality of place in Northeast Ohio. Since 2004, members of the Fund have committed more than $88 million and thousands of hours of their time to help transform our region's economy.
"The Fund's continuing commitment to the support of biomedical innovation and commercialization is instrumental to the growth of the industry," said BioEnterprise CEO Aram Nerpouni. "In the past ten years the Northeast Ohio biomedical industry has grown from approximately 350 companies to over 700, and direct employment has grown from 15,000 to over 21,000. In 2012, 43 Northeast Ohio biomedical companies attracted $226 million in investment. This was the largest amount of funding attracted by any Midwest region in 2012."
---
Glow at the Garden
Geek Event
The Cleveland Botanical Garden's holiday event, Glow at the Garden, opened Friday, November 29th and runs until January 5th.
Take a train ride through the garden, feast your eyes on over 100 gingerbread houses (you can even decorate your own to take home!), enjoy live seasonal music performances, dozens of trees delightfully decorated by garden clubs, and the twinkling lights. Plus, there are a few new surprises in store for you.
Check out a few pictures of how the crew from Forest City Tree Protection brought in the 24' concolor fir tree for the lobby display.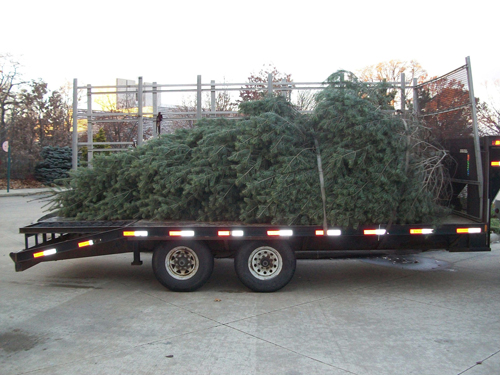 ---
Top of Page
---
Ohio State - Michigan Fallout
Geek News
We know that OSU-Michigan is one of the greatest rivalries in all of sports. And Ohio Governor John Kasich went so far as to tweet encouragement to "all Ohioans to avoid using the letter 'M' when possible."¯
Although this rivalry has been great for sports fans, it has meant 1.6 million dollars in lost business for Ohio small business locations of Yellow Van Handyman, whose brand colors are the same as the Michigan Wolverine's school colors.
Yellow Van Handyman, a nationally franchised handyman service, has faced challenges at its Ohio locations, unlike anywhere else. "We have had people aggressively come up to us and ask if we were Michigan fans"¯ said Will Carrell, a local Yellow Van Handyman in Ohio. "It got so bad at one point during the football season that we were talking through changing the color of our vans, just to avoid the loss of profits and hassle of telling people that we do, indeed, love and support our local Ohio State Buckeyes."
¯ Jerrod Sessler, CEO and Founder of Yellow Van Handyman, recently shared, "As a native Washingtonian, I had no way of anticipating the challenges that we would face in the Ohio area because of our branding. We love college football in my home state, but the passionate BCS rivalry between the Michigan Wolverines and Ohio State Buckeyes has been unlike anything that I had ever experienced in the Pacific Northwest."
¯ Sessler also stated that he looks forward to the challenge of winning customers in the Ohio area through superior service, exceptional customer service, and fair prices.


---
Top of Page
---
Droid
Geek News
International Data Corporation (IDC) just published a report that Google's Android operating system reached a new milestone during the third quarter of 2013.
With a total base of 211.6 million smartphone units shipped during the quarter, Android accounted for 81.0% of all smartphone shipments, marking the first time that Android topped 80% in its short history. Despite high saturation rates in a number of mature markets, the overall smartphone space grew 39.9% year-over-year in the third quarter.
Also reaching a milestone was Microsoft's Windows Phone, which grew an amazing 156.0% year over year. Granted, volumes started from a small base of 3.7 million units a year ago and overall market share is still less than five percent. But Microsoft's efforts, with Nokia's support behind it, helped drive the platform into multiple tiers and price points.
"Android and Windows Phone continued to make significant strides in the third quarter. Despite their differences in market share, they both have one important factor behind their success: price," said Ramon Llamas, Research Manager with IDC's Mobile Phone team. "Both platforms have a selection of devices available at prices low enough to be affordable to the mass market, and it is the mass market that is driving the entire market forward."
---
What the Great Lakes Geek is reading
Geek Book
The Great Lakes Geek just finished reading Fashioning Technology: A DIY Intro to Smart Crafting (Craft: Projects)
It took the Geek awhile to pick up this book because he is not interested in Fashion (take a look in his closet for proof) and crafting doesn't make his Top Ten list either. But he does like technology and electronics and making stuff so when he finally did start reading it he wishes he had got to it sooner.
The primers on electronic components, material, tools and the like are better than the Geek has seen in books dedicated to those subjects.


Read the Great Lakes Geek review of Fashioning Technology: A DIY Intro to Smart Crafting


---
---
Top of Page
---
Microsoft System Center
Geek Freebie
The second title in the new series of free ebooks from Microsoft Press on System Center 2012 is now available. Microsoft System Center: Configuration Manager Field Experience provides Configuration Manager administrators with helpful and tested real-world guidance from consultants and product experts at Microsoft.
The target audience for this book is administrators who have at least three years experienced working with previous versions of Configuration Manager and who have begun deploying and using Configuration Manager 2012 in their environment.
Download a pdf of the eBook for free
---
Most Valuable Brands
Geek News
Coke has owned the top spot in the annual Best Global Brands report since inception in 2000. But not anymore.
The new report says that Apple is now the most valuable brand in the world, followed closely by Google.
Coke is now 3rd followed by IBM, Microsoft, GE, McDonalds, Samsung, Intel and Toyota.
So tech companies claimed 6 of the top 10 spots. Not bad. And Cisco is 12, HP is 15, Oracle is 18, SAP is 25 and eBay is 28.
---
The sound of one (wet) hand clapping
Geek Science
In a paper appearing this month in Physical Review E, Virginia Tech engineer Sunny Young and five colleagues reported on the dynamics of squeezing fluids using a simple experiment of clapping with wet hands. As an engineer, Jung described "this outburst of fluid motion" as the unusual physical phenomena.
"Everyone has experienced water drops hitting one's face when wet hands are clapped," Jung said. The scientific question is why does a thin film of liquid, in this case, water on the hands, break into small drops by the squeezing or clapping motion.
"To transit from a film to drops, fluids need to undergo instability, and in this case, it is the up and down crown splash due to surface tension," Jung explained.
---
Can't get enough of this
Geek Video
This a cappella version of Bohemian Rhapsody that deals with string theory (and features a sock puppet!) is the Geek's newest fav video. Check it out.
---
US Math and Science Scores
Geek Report Card
Math and science scores at the 4th and 8th-grade level are improving nationally and across many states, but remain low for an economy that is driven by innovation and technology finds the latest TechAmerica Foundation study. The 40th edition of the TechAmerica Foundation Competitiveness Series, examines 4th and 8th-grade math and science scores at the national and state level based on data from the U.S. Department of Education's National Assessment of Educational Progress.
Nationally, math scores are up in both 4th and 8th-grade. In 2011, the most recent year available, over 40 percent of 4th-graders scored proficient or more, which is an increase of 39 percent in 2009. In 8th-grade nearly 35 percent tested proficient in 2011, up from 34 percent in 2009 and 32 percent in 2007.
At the state level, Massachusetts led the nation in math proficiency in 2011, with over 50 percent of their students in both 4th and 8th-grade testing at or above proficient, the only state in the nation to achieve this feat. In science, North Dakota led the nation in 8th-grade science proficiency with 45 percent of students testing at or above proficient.
"For the United States to remain the premiere location for innovation, it needs a steady stream of people with a strong foundation in math and science. Education holds the keys to the future of the technology industry," said Shawn Osborne, Chairman of the TechAmerica Foundation.
"We in the tech industry are particularly encouraged by the math and science score trends in 8th-grade but are troubled by some regions in the country that continue to experience low proficiency scores. When two-thirds of 8th-graders are testing below proficient in 25 states in science and 24 states in math, too many students are being left behind."
Of the 46 states with reliable 8th grade science data for 2009 and 2011, 43 states experienced improvements in their science scores. In math, 35 states saw their 8th-grade math scores improve between 2009 and 2011.
"Fortunately, technology provides tremendous promise for helping to improve educational obtainment. The integration of technology into the educational system can continuously monitor, test, and assist our nation's children. It can enable both teachers and students to enhance their productivity, effectiveness, and reach," concluded Mr. Osborne.
Download the free report from TechAmerica Foundation
---
Blue Screen of Death
Geek Freeware Utility
BlueScreenView is a freeware program from NirSoft that scans all your minidump files created during 'blue screen of death' crashes, and displays the information about all crashes in one table.
For each crash, BlueScreenView displays the minidump filename, the date/time of the crash, the basic crash information displayed in the blue screen (Bug Check Code and 4 parameters), and the details of the driver or module that possibly caused the crash (filename, product name, file description, and file version).
For each crash displayed in the upper pane, you can view the details of the device drivers loaded during the crash in the lower pane. BlueScreenView also mark the drivers that their addresses found in the crash stack, so you can easily locate the suspected drivers that possibly caused the crash.
BlueScreenView works with Windows XP, Windows Server 2003, Windows Server 2008, Windows Vista, Windows 7, and Windows 8, as long as Windows is configured to save minidump files during BSOD crashes.
BlueScreenView doesn't require any installation process or additional dll files. In order to start using it, simply run the executable file - BlueScreenView.exe After running BlueScreenView, it automatically scans your MiniDump folder and display all crash details in the upper pane.
Learn more and download BlueScreenView.
---
Yahoo over Google?
Geek Surprise
This one blows the Great Lake Geek's mind.
comScore Media Metrix, which releases monthly lists of the top 50 U.S. web properties put out July's report, and guess who is on top? Yahoo!
Yahoo hasn't been at the top of the list for two years and the report doesn't even include Tumblr traffic.
Yahoo properties saw 196.6 million unique U.S. visitors during the month, compared to Google' s 192.3 million. Google continues to dominate the search market by a much wider margin.
If you count Tumblr, you can add another 38.3 million unique users to Yahoo. Wow! Top of Page


---
Windows Phone 8
Geek Freebie
Paul Thurrott's Windows Phone 8 is now available - for free.
Thurrot said, "Available for free as a gift to the Windows Phone community, the book is also my first major foray into self-publishing, and while it's only currently available in PDF format, I'll be updating it soon with more information and publishing in various major e-book formats, including Kindle."
---
---
Windows Server 2012
Geek Videos
There is a course of free videos available that you may be interested in if you are an IT Pro with Windows Server 2008 expertise and want to upgrade your skills to Windows Server 2012 in preparation for exam 70-417 and moving into either an MCSE: Desktop Infrastructure, or MCSE: Server Infrastructure, or MCSE: Private Cloud.
This course is led by Microsoft Senior Technical Evangelist Rick Claus and Ed Liberman from TrainSignal, two seasoned Windows Server experts with real world experience. Rick and Ed will be leveraging the popular "Jump Start" virtual classroom approach to engaging, expert-led, and demo-rich team-teaching.
---
ADA Programming
Geek Freebie
Programmers are very loyal and protective of the languages they use. So if you complain to a C programmer about dangling pointers and buffer overflows, they might take offense.
Especially if you suggest using a language such as ADA. ADA is supposedly designed for safety and security more so than languages like C++ or Java.
You can get a free 4MB pdf e-Book that discusses issues in any language and then tells why ADA 2012 is a better solution.
The website blurb says: "Safe and Secure Software - An Invitation to Ada 2012. The aim of this booklet is to show how the study of Ada in general, and the features introduced by Ada 2005 and Ada 2012 in particular, can help anyone designing safe and secure software regardless of the programming language in which the software is eventually written. After all, successful implementers of safe and secure software write in the spirit of Ada in any language!
Written by John Barnes with contributions by Ben Brosgol.
---
Geek Domain Names
Order Domain Names, e-mail accounts, web hosting, SSL certs and the usual menu of Internet items for great prices at Great Lakes Geek Domains. Follow the link at the bottom of the nav bar (under search) or click to visit
---
Certified Partner News
Magnum News
We are proud to be Kroll Ontrack® Data Recovery Certified Partners.
This allows us to offer clients the best-of-breed products and services that Kroll Ontrack provides to recover your lost data.
NOTE: Tampering with media information may result in irreversible damage. Contact us right away when you have data loss to maximize the chances to recover your data.

Top of Page
---
Desktops, Servers and Notebooks - Oh My!
Geek Store
Need new hardware? Why pay extra for those expensive name brands?
Check out our on-line hardware store and browse pre-configured systems or tweak the configuration options yourself and get instant pricing.
We'll ship the custom built system right to your door. Take a look at the Magnum Computers Webstore
Top of Page
---